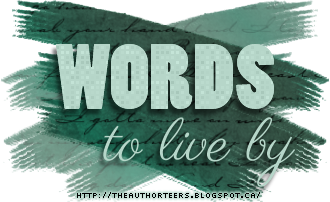 Words to Live By is a monthly feature here on The Authorteers where we share some of our favorite quotes. We hope they inspire you, touch you, make you laugh, and make you think.
"Isn't it nice to think that tomorrow is a new day with no mistakes in it yet?" ~ L.M. Montgomery, Anne of Green Gables
"What is the point of being alive if you don't at least try to do something remarkable?" ~ John Green, An Abundance of Katherines
"I wouldn't change it you know," he said, his breath raising goose bumps on the skin of my neck. "The girls, the other boys, everything we experienced before this moment. Because that was all wrong. And I think we needed to feel what was wrong to know what's right." ~ Megan Erickson, Trust the Focus
"You can't control the past, but you can control where you go next." ~ Kirsten Hubbard, Wanderlove
"For the two of us, home isn't a place. It is a person. And we are finally home." ~ Stephanie Perkins, Anna and the French Kiss
"Your power, your great gift, is that you never give up. When something fails you make a new plan, and another, and another. You never accept defeat. You never give up." ~ AC Gaughen, Lady Thief

"It's unbelievable how you can affect someone else so deeply and never know." ― Susane Colasanti, So Much Closer

"You'll turn out ordinary if you're not careful." ~ Ann Brashares, The Last Summer (of You and Me)
"Bad choices or good, if you never take chances, someone else will build your life for you." ~ Ellen Hopkins, Perfect
"I did something brave, then. Or stupid. Sometimes it's hard to tell the difference." ~ Michelle Hodkin, The Evolution of Mara Dyer
Which of these is your favorite? Do you have a favorite quote from a book? Any suggestions for a future Words to Live By theme?