The Authorteers are pleased to welcome the lovely Deirdre Riordan Hall to
the blog today. She's here to share 10 sweet things about herself and her new novel, Sugar (out next week!). Thanks for being here, Deirdre!
Thank you,
Authorteers
, for having me by. Your request was one of those feet up, twists on my swivel chair, woo-
hoo
moments! The following is a mixed bag of Sugar-related bits and bobs...
1.Here's
my
Pinterest
board with loads of inspiration. A few spotted while writing the novel, others during editing, and some more recently. Compared to my other novels, I used Pinterest as an inspiration resource less, but it's still super helpful for me to have a few visuals during the entire process. I'm a word person, but pretty visual, too.
2. Here's a
bonus scene
from SUGAR first featured on the YA Scavenger Hunt back in April. Would you get chocolate or rainbow sprinkles?
3. A combination of real towns in New England inspired the sour streets in the town Sugar lived in New Hampshire, but it
isn't based
on one single place. I did this in part because I wanted it to be a backdrop, with the characters in the spotlight.
4. Although I've worked in restaurants and have no aspiration to own or operate one, I often think up names if I were to find myself in the culinary way. The
Scoop & Sprinkle
is my would-be ice cream stand. There's also
Pizza Pie
, featured in another manuscript (and yes, Pi day = free pizza) and because I love pizza, like a lot, there's also
Peace, Love, and Pizza
…and another,
simply
Pie
, where you guessed it, only pizza and pie are on offer.
5. Like Sugar, I've eaten unforgivable amounts of cookie dough, especially the raw-egg kind, in the plastic sausage-like wrapping with the little metal belly button at the end. Salmonella anyone? Since then, I've found loads of egg-free
cookie dough
recipes. 
6. I cried at various points in the novel each time I went through with revisions and edits. There might still be splatters on my keyboard…along with cat hair and possibly a few crumbs.
7. Sugar & Even have what I call an autumn friendship.
8. I've only been on a motorcycle once.
9. A few of Sugar's alternatives for the F-Bomb that didn't make it into the book =
fark
,
friggle
, and
frunking
. Do you have any?
10. SUGAR in one line: The most difficult journey can be the discovery of the uncharted terrain of one's innermost self.
Sugar by Deirdre Riordan Hall
Genre: Contemporary Fiction // Age Group: Young Adult
I'm the fat Puerto Rican–Polish girl who doesn't feel like she belongs in her skin, or anywhere else for that matter. I've always been too much and yet not enough.
Sugar Legowski-Gracia wasn't always fat, but fat is what she is now at age seventeen. Not as fat as her mama, who is so big she hasn't gotten out of bed in months. Not as heavy as her brother, Skunk, who has more meanness in him than fat, which is saying something. But she's large enough to be the object of ridicule wherever she is: at the grocery store, walking down the street, at school. Sugar's life is dictated by taking care of Mama in their run-down home—cooking, shopping, and, well, eating. A lot of eating, which Sugar hates as much as she loves.
When Sugar meets Even (not Evan—his nearly illiterate father misspelled his name on the birth certificate), she has the new experience of someone seeing

her

and not her body. As their unlikely friendship builds, Sugar allows herself to think about the future for the first time, a future not weighed down by her body or her mother.
Soon Sugar will have to decide whether to become the girl she sees in the mirror or sink into the darkness of the skin-deep role her family and her life have created for her.
Deirdre Riordan Hall is the author of upper young adult and new adult fiction. She spends her days writing at the custom-made desk her husband crafted, with her family, or seaside, pretending she's a mermaid.

Deirdre is very generously giving away an ARC of Sugar, plus the swag pack pictured below (how cool are those M&Ms?). This giveaway is open internationally - thank you so much for your generosity, Deirdre!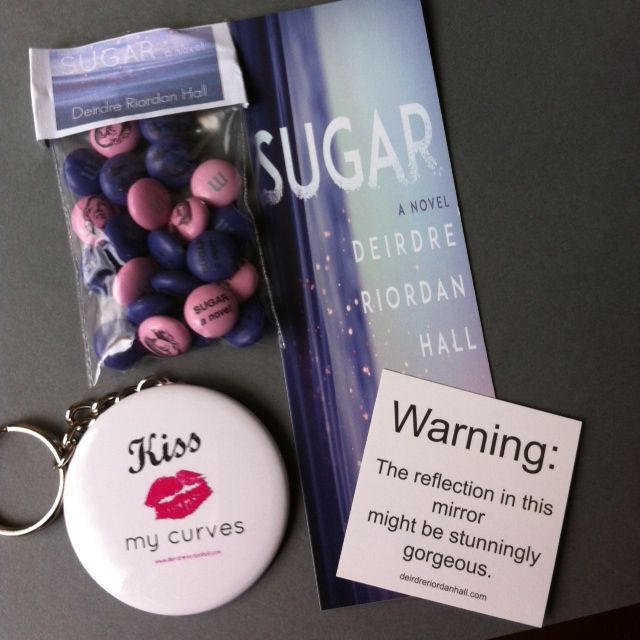 a Rafflecopter giveaway